The Future of eCommerce Search is Here!
In order to meet the demands of the digital-first era, Google and GroupBy are bringing the future of eCommerce to you by setting the standard for Product Discovery in the market. Google's Cloud AI technology and GroupBy's Product Discovery solutions are revolutionizing the eCommerce buyer's journey to help retailers transform the customer experience with AI-powered Search and Recommendations.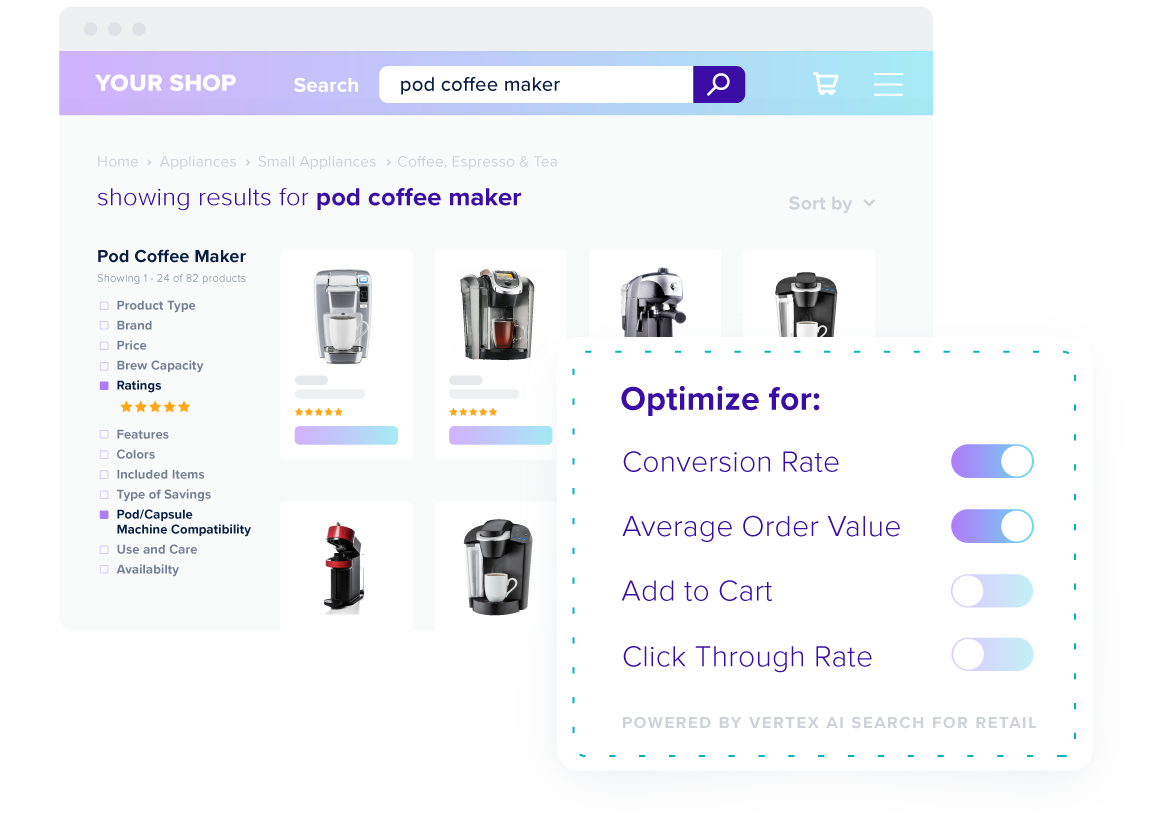 Increased Customer Engagement
Advanced machine learning (ML) and artificial intelligence capabilities provide fast, accurate and high-quality search results and recommendations that help increase customer engagement and shorten the shopping journey. This ultimately reduces bounce rates and improves customer retention.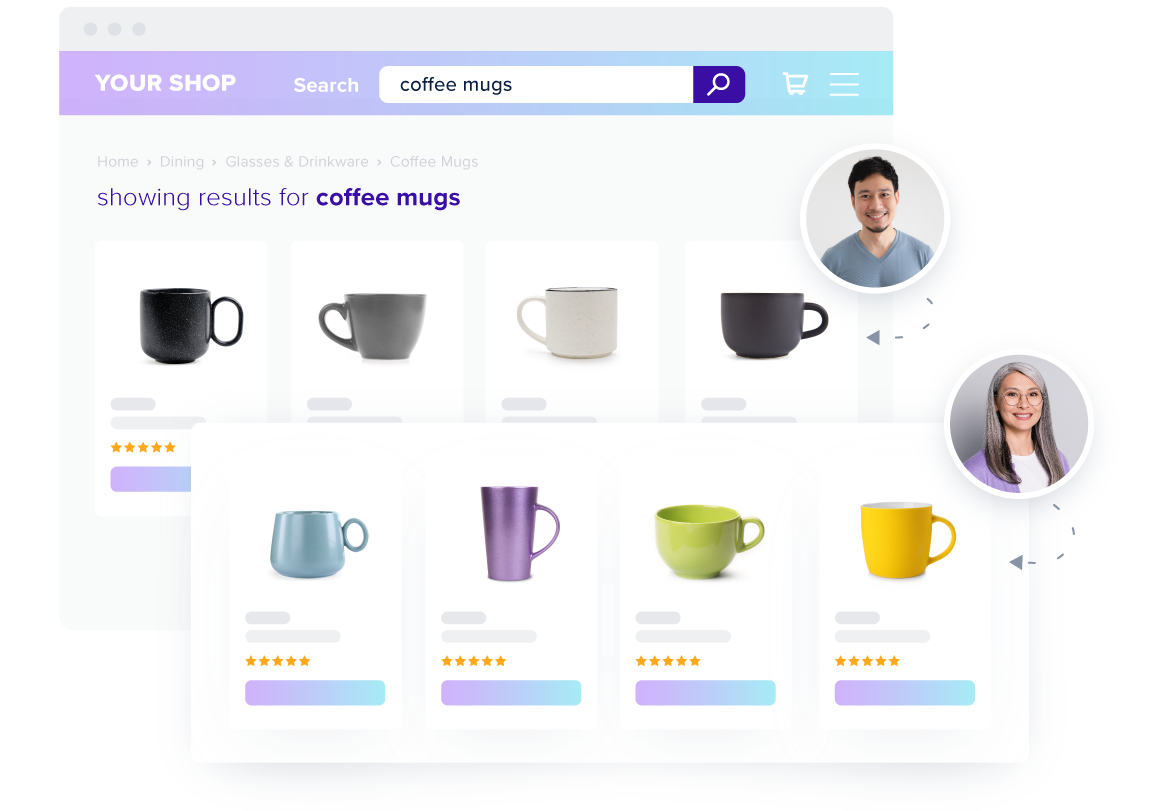 Higher Conversions & Revenue
Drive conversions through personalized shopping experiences and increase basket size with highly relevant cross-selling opportunities powered by AI. Overcome cold-start challenges where no customer or product data exists by leveraging Google's AI engine and enrichment capabilities.
Reduce Manual Intervention
Reduce manual intervention posed by rule-based systems and huge catalogs by implementing a modern ML engine that leverages natural language processing (NLP), advanced query understanding and ranking models.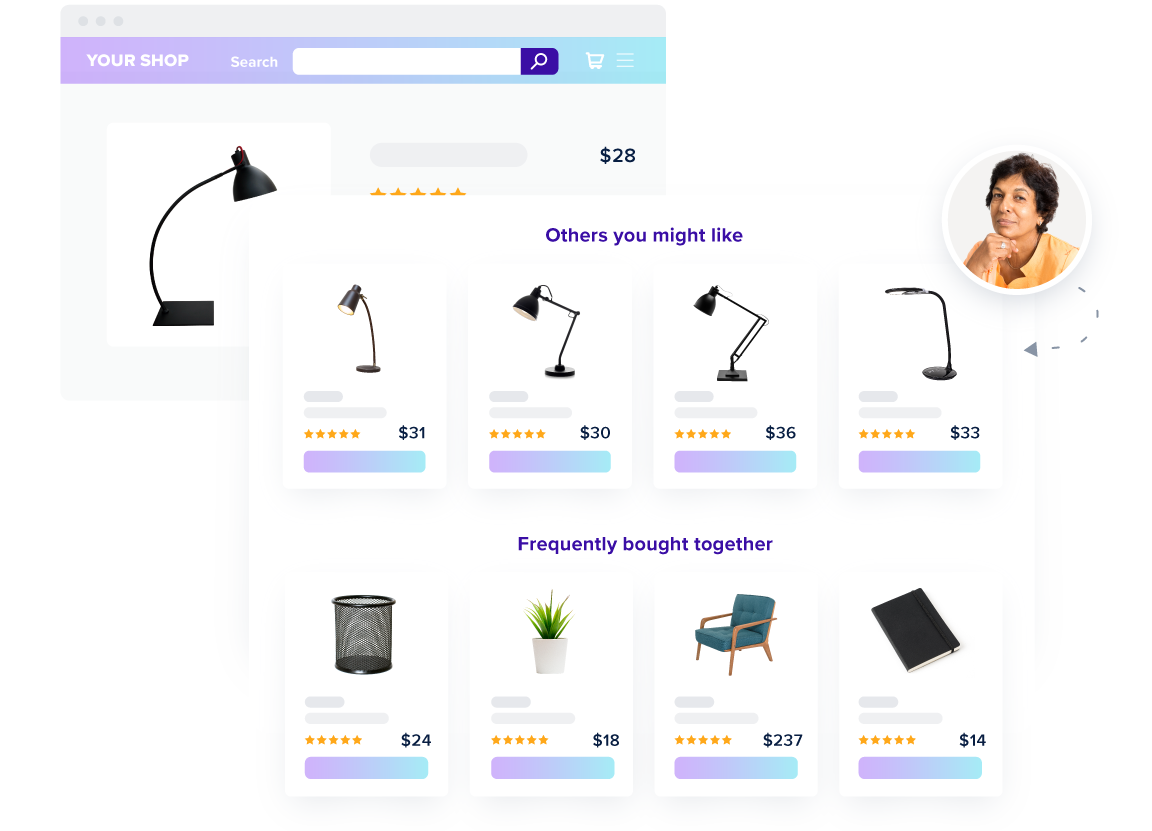 Improve Retention
Reduce bounce rates and increase customer engagement and ultimately build a loyal customer base with more personalized shopping experiences, tailored cross-selling opportunities, unmatched search and recommendations results, and enriched product data.
Here's what our customers are saying about us
It is our constant effort to provide our customers with a remarkable experience both online and in-store. Our partnership with GroupBy takes us further in this direction and we are excited to provide a seamless buying experience through increased product relevance, personalization, and product recommendations.
Robert Brous
VP OF ECOMMERCE & DIGITAL
rue21®
GroupBy has given us the opportunity to engage customers in different ways, give them knowledge they didn't have and recommend products they didn't know we sold. Customers that are adopting our digital platform are buying more from us than customers that are not.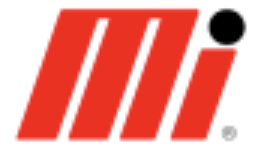 James Howe
SVP SALES EXCELLENCE, ECOMMERCE, AND STRATEGIC PRICING
Motion Industries®
GroupBy is a partner who is innovative and regularly adds new functionality that is important for our business. We evaluated GroupBy's roadmap and product direction and determined we could work with one partner, rather than multiple partners, and we could have a more strategic relationship with them.
Eric Trautvetter
VP, TECHNOLOGY & ECOMMERCE
Swanson®
GroupBy brought a fresh perspective that resonated for a modern customer experience. They have a resilient attitude so they are there to learn with you as your partner and they keep you updated.
Leading Wholesaler
UX DIRECTOR