With the eCommerce industry growing exponentially each year, it can be hard to set your business apart amongst the increasing competition. In today's world, success for retailers/brands lies in effective eCommerce and effective eCommerce is not just about having a greater audience reach. It's about being relevant. Most importantly, a lot of the latest technology is transforming the way businesses interact with their customers. In this article, we will examine some of the latest eCommerce trends that you as a retailer must prepare for in 2019.
Mobile Shopping Experiences
eCommerce growing almost four times faster than in-store retail and set to account for half of all sales made by 2021, retailers cannot afford to discount the importance of managing online customer experience. Many consumers use their mobile devices to make purchases, with convenience and accessibility being major priorities for online shoppers. If you want your products to sell, you'll have to make your mobile site as user-friendly as possible.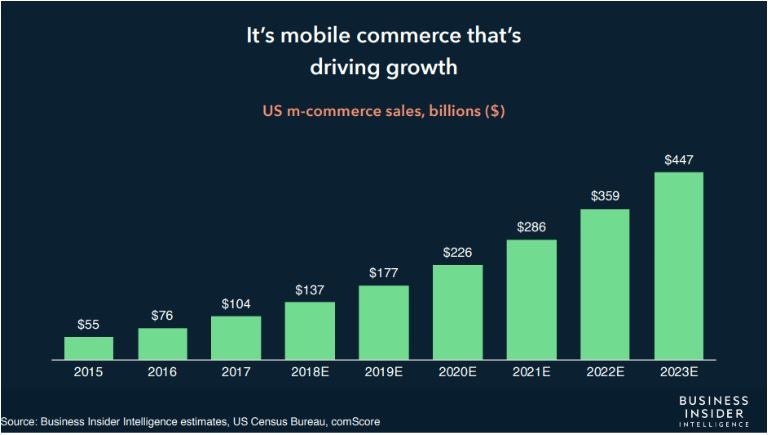 Some retailers are moving from sites and apps to a new standard: Progressive Web App (PWA) - a hybrid between sites and apps which combines upsides of each and does away with the limitations. PWAs create fast-loading, compelling mobile experiences, similar to what brands and retailers achieve with a native app, while also being discoverable and accessible to everyone via the mobile web. No need to market your app, your mobile site acts like an app. Some of the retailers who implemented PWAs are already seeing an increase in mobile sessions by 51% and 20% increase conversions (ex: Lancome, West Elm)
Voice Commerce
Search has traditionally been a straightforward, text-based activity. Today, however, the search is changing as new platforms like voice and natural language search create potentially more intuitive ways for shoppers to find what they are seeking and for marketers to position their brands and products. A new effortless way to shop, Voice assistants like Apple's Siri, Amazon's Alexa, and Google's Assistant are growing more and more popular. According to eMarketer, voice commerce accounted for $2.1 billion last year, representing just 0.4% of online sales.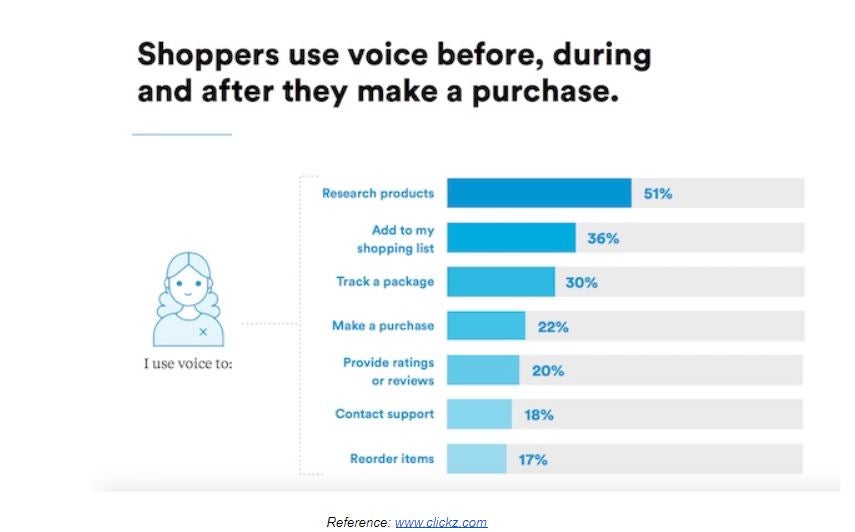 To engage more customers to use voice throughout the shopping journey, retailers need to implement a voice strategy to make their products discoverable through voice assistants. They have to focus on guiding the user through the touch-points, build trust, make it easy for customers. Some early retail adopters have already taken the customer experience to the next level with voice. For the 2018 holiday season, H&M launched a voice-enabled gift guide spotlighting its home décor collection, powered by Google Assistant. For retailers to ultimately succeed with voice technology, they must truly understand and successfully design the customer journey based on their audience's specific needs and expectations.
AI and Chatbots
AI has already invaded online shopping trends, 2019 is just another year taking it further. Customers want their favorite products and services easily and quickly. But businesses don't have enough time or resources to cater to everyone's preferences individually. Powered by AI, these chatbots learn from customer interactions and conversations and evolve into something even better with every conversation, giving customers a personalized eCommerce experience. They provide 24/7 service, improve the customer journey, reduce stress for the shopper, personify your brand. According to a Facebook survey 53% of consumers said they're more likely to shop with a business that they can connect with via chat.
As per the Gartner Report from the Chatbot and & AI conference:
85% of customer interactions will be handled without a human agent by 2020

50% of businesses will spend more on chatbots than mobile apps by 2021

$8 Billion in cost savings from the usage of chatbot conversations by 2022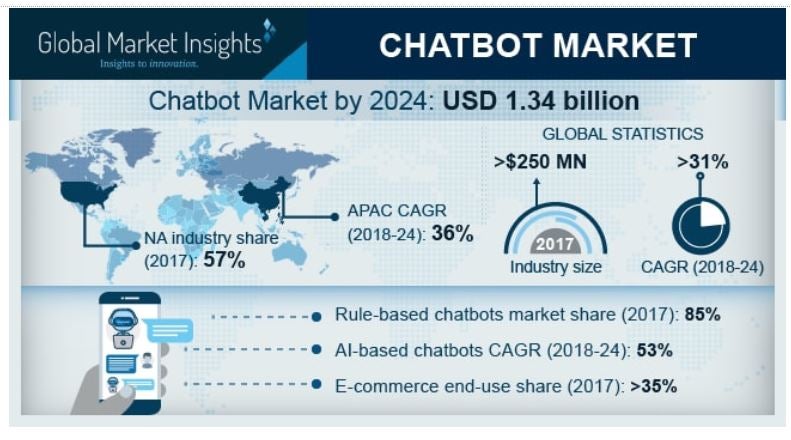 Trends come and go and keep changing but, it's clear that Mobile Shopping, AI&Chatbots and Voice Technology will play an integral role in the retail customer experience for the masses in the next few years. Innovations and new technology need to be implemented correctly to establish a relationship and build trust with the shoppers so that it will lead to an increase in ROI and conversion rate. We are experimenting with new technology like these at GroupBy. Shoot us an email if you would like to collaborate.